Shallam Katta Alatta Yosef Gebrab, FACEBOOKla April 19, 2015 kilattama kasa.
KASA:- Nna latte bubie kasa. Annam edadibbu kosasea tillaskeso. Sale Felice-Pietro Ali:- April 25, 2015
Assi tulumu
---
GEREMIA GOGNE
S
0045 / 91 767 078, nnata kea kekkela aesunissa.
1.- Ai niminno Shile-Bilene-Mense Kerenkin egura kesameno?
2.- Ai niminno Shabia mabusa etuno? Sale Felice , April 21, 2015
Assi tukumu
---
A Message to Ato Futzum Girmay
Zuchwil - Kanton Solothun
Switzerland:
From: (VKP), the Voice of the Kunama People: (KCS the Kunama Civic Society:, (KAM), Kunama Agara Mena, (KNT): Kunama Narkaba Tummada,:The VKP/KAM, April 20, 2015.
Read more
---
The DMLEK´s Brainwashing = ERKUKODISU olliesi Anggonggola shafosgosuma damana.
Published on Friday, 17 April 2015 13:40
KASA:- Uie barenaila SHIMELBAkin koma KABARA:- Adolay Kornelios Osman Amerikalabbu Shimelba ollie Erkukodisu shimagalleta shilikabbu NURI TUKKA sangga nakofonama eliki iningasi esasasso olino Nuri Tukka ninga dagasiakin kugur kisamekeda kofalike. Sangga kofasi koboingki ammatosuma kulabbu iamoa uasoskeno, kalas oina ke 20+ sanggana kofonokoa. KAM/Kunama Agara Mena (April 20, 2015)
Assi tukumu
---
Kornelios Osman's Evasive Answers and Three, (3), Big Lies:

Concerning the fellow-Kunama individuals killed, Kornelios Osman, during his journey to, and stay in USA, gave the following three answers of three different versions.
1).- "I did not kill them";
2).- "Others told us to kill them";
3).- "The People killed them";
Kornelios Osman gave these three different answers, to those Kunama, who addressed him, the question "Why he killed those Kunama individuals". The Voice of the Kunama People, (VKP);
Kunama Agara Mena, (KAM); April 16, 2015.
Read moreዝኽርን ንኹሎም ጀጋኑ ስዉአት !! "ድሕነት ህዝብን ሃገርን ልዕሊ ኩሉጻሚ ኣካል ግንባር ሃገራዊ ድሕነት
---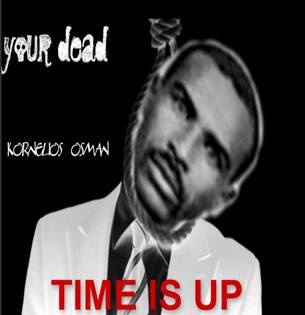 WANTED FOR THEIR "HOMICIDAL" ACTS AGAINST THE KUNAMA PEOPLE.
WHO ARE THESE? These are the Kunama individuals who were execute by DMLEK´s leader Adolay Kornelios Osman .
The bunker lies on the right hand side of the valley.
---
KUNAMA
NARA
---
ORAR FALU ADOLAY KORNELIOS FACEBOOKLA:- jiba makki afiyom makkolana dadanno awikeñgomma sabbatasi jibeya woyne kalashina gatamma emmo afiyoñkekkola dowa deya kasiya.
Assi tukumu
KASA :- ORAR FALUTTE-ADOLAY KORNELIOSTESI
Agara kobishaki mabachkedabbu shifte sana misana mishike, Dala, Shila, Kunama shigida bubiakin KARKASHE taffaromminola mishike. Ailaida 4.000-5.000 agara shaba mala aminno miggura mishino, nnabe kobisha bacha farda? Isa lagala galle alufa gomaiana Kunamabbu makoshiki Kunamabbu matomoa abbarala kutu ditta furdanga, fanedanga, ngelanga lammasama kontikeame. Websitena Kunama killimme, iamme, jajenasumme, agarasi tilbata keuladab kisibosumme, agara kimamaramme shigide kogguramme. Nna ngerea fodena ketakki euigaske. Maida abbareda Orar Falu, Adolay Kornelios, Sale Felicette Pietro Alitte, Kunamesi turkabbu maiamme, serala kira matu maiamme. Agara sheshete farda gushe fardakin fittis keuigasso tagamon gongke. Ekkena kusudano kekesumoa komaldala kimbima!
Assi tukumu
---
ADOLAY KORNELIOS OSMAN AMERIKALA SARIDA KOTUNAMA SANE.

SARIDA, SARIDA, KOSKINAMMA SARIDA.
IOWAla kekidomma aminno maruata ninaki nishaniki agaranda kokela nainakema ishakauasumoa agasala ni lakanumme lakida nokotuki ukka nokoshab nishino. Olimoae Kunamenumebe, be Kuname tur Kodusokebe. "AMINNO KUNAMA KISHE NIANOMMA ABANUME AGARAM IAKENGKE." Agara oina ERKUKODISU agaroa iabe agara MOSANDA Erkukodisukin bettis kishamoa iabessa oinana nibishina kesabno lakidala nishike. Min gallai 17 agara nimamaraki Kittita aura kekadabbu oshinninama fanakoa shaske
Sale Felice M. (April 13, 2015) Assi tukumu
Adolay Kornelios,Yakob Shinggirai, Tewelde Minase, Osea Sila , Jermia Gogne
---
ER-KUKODISU ADOLAY KORNELIOS DORDA CHA FANEDE .-nna fanedenaibbu Agara kimmiki imamarakishikema ekida kebini.Ashkara faneda agara sibilatte gasunni.
Assi tukumu
---
AFAIADE OSAME KASOMA LAUESTASKE OINA NGERA; KUKODISU MASHANGKALEKIN SUKUSKIKOMA LATTE:- NNADEA ORIGINAL DOCUMENTA SHADIOA. BACHASI MASA SULUBA KOKKI OSAMA SABABOA NNA. DILLA ADOLAY KORNELIOS NNA "KUKODISU" IDOROMA MATAREBENAKIN AMINNO DEGATA KUSKISHINO TILLASUBE OBOKOKOMA AGARA KOSAGAMOA. ANGKATOMMA KUNAMAME, MAIDABBU KEKIDA KEBINI. KUKODISU kursa Manna ferma Cacu W/sillasie/ Humera-Ethiopia, Marso27, 1996 Assi tukumaE
THIOPIA MARSO
HUMERA ETHIOPIA MARSO 27/1996
HUMERA ETHIOPIA MARSO 27/1996
HUMERA ETHIOPIA MARSO 27/1996
UMERA ETHIOPIA MARSO 27/1996UMERA ETHIOPIA MARSO 27/1996
(KATITIDA LAKIDALA BUBENAINA KINTIGOSUMMEMA ENTIBBU KONEDA NAFAIDALAMA)
ADOLAY KONRELIOS OSMAN Amerika Kunamette Erkukodisu furda galle 20 nafestanandab kiki MABASU Kollike.
Kesi "TOGILA AGALA KOKOFOKEsumoa uliasi DIPLOMAT PASSPORTbu" kofokomoa kenti Afringa, Shiro, Ansola, Addoka kiki dabosumoa . Komalda kokelolle "KUNAMA KISHESI AGARAM IAKE DITTA ABA NAIAMMESGOSKE" agarena ngkano, "ERKUKODISU AGAROABE OINA AGARA SASANDA AMINNO MIANODINOABE" Tama Kunama kishe kiama karima "ERKUKODISU KISA GOSUMA AGAROA KISHAMA KOTALALIKE SHIMELBALABE AMERIKALABESSA " Mitakenasi nna Amerikala mikosima Kunamenae ERKUKODISUsina Adolay Korneliossina matakemmedabbu milkormeki milimishiki attile badiokala mikosimoa kottakeno, tama emesi oratea manolabbu Amerika hakumata etakena akomamja mishamoa. KAM=Kunama Agara Mena (April 10, 2015)
Assi tukumu
---
The DMLEK´s Brainwashing = ERKUKODISU olliesi Anggonggola shafosgosuma damana.
---
24 Marso 2015 Facebookla.
HAWA KABBADO (JENNER GEREMIA GOGNE )
WOYNAKKESI KOSONA SOOTA.:- Ide tamana tuffanki kittitasi jarimatata doromunasi arfana gonke ditta kalmana meynammema saneya limu. Kunama tummadala mekona data ellana kosimmema tabaromu.
EREMIAS GOGNE- Oinabu amanana halalanakin degata kun koshimesi hellena sase hellamma ede tummamu alama fardata kalokema. Tamana alala guja koshignan ditta itenni!!!.
KASIA...KAM=Kunama Agara Mena , Marso 27, 2015 Assi tukumu
---
Kunama Heroes

---

---

---
Victims of Isayas Afwerk

---

---

---

---

---
Adolay K. Osman Kunama murderer.

---

---

---

---

---

---