NNA KENA NANO ? SHARA ITALA AIKIMIN GOSSO? FANAKELLALA ADOLAY MABUSESI GABALA KOKKALOKE,
TATTAGA KOKKALOKESKI VIDEOBBU SAUARON KOKI KOSONO, AMMA KILATTEKI HOS KINAKE. TAMMAKI UNU AIKINNENO ?
KAM = Kunama Agara Mena (August 03, 2015) Assi tukumu
---
THE GAMES OF LIES ARE OVER.!!!!
What happened to this super BOEIG aboard Kornelios Osman Aggar and Fitzum Girmay directed to Addis Ababa ?
 Quo vadis ? Where are they?

 The end of this aircraft is an enigma. On 07.07.2015 to BOEING aboard Kornelios Osman Aggar departed 
from America to Addis Ababa, as it was launched by Fitzum Girmai in his facebook page that: "Kornelios Osman Aggar is back to Addis Ababa."
 Until today hasnot confirmed landing of this famous airplane in Bole International Airport in Addis Ababa. It is probably silently in the air or
 in the purpose "BERMUDA TRIANGLE?"   VKP-KAM (August 01, 2015)       Read more    	  	  	  	  	  	    
---
NNA URGUNANENA(urbunanena) NGKA KINO?
Nna urgunanena (urbunanena) tela uia 07.07.2015 Ethiopiata feskosodake. Lakin tamata Addis imme. Ide ke attile koludokala. Nna urgunanena (urbunanena) fesuma sata kotakemme. Lakin
agura au pilota talala Adolay ide akodadia Fitzum kime mishamoa sauarouabbu kotalalike. Oinabbu nna urgunanena (urbunanena) kosima uaga kinti kasasama ka Shillimata au FADUBA taggima kinake. FADUBOA KOSONOA GOMATABBU (July 15, 2015)
---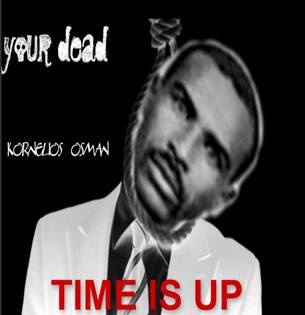 WANTED FOR HIS "HOMICIDAL" ACT AGAINST HIS OWN KUNAMA PEOPLE.WHO ARE THESE? These are the Kunama individuals who were execute by DMLEK´s leader Adolay Kornelios Osman .
The bunker lies on the right hand side of the valley.
---
---
31 July 2015 Aseneme kunamesi ( FACEBOOK KIDA )
Aseneme Kunamesi dabbu kokidama Facebook shesheta shodokab Adolay kollima abishe kinola kikida goske. Nna Adolaysi kollike suma kenaesi Shabieske. Ingkedibbu ime Shabia osabessa uda kasasamana kosimme. Shabie antata Esaias Afewerkisi Amerika kima mabusa utumme. Lakin Adolay shifta tabilabbu AmeriKa kuama sabbatasi ollike ide Aradialana keka kolake. Abbaria Adolay shifta sana Esaias shifta sanekin baddala. Adolay auria bubiala aba ingallangabbu dittia agarette masa maiakedabbu ka arte kimamaji kinake. KAM= Kunama Agara Mena (August 01, 2015) Assi tukumu
---
AGARA JUNUBA; AGARA HAIDA, ADOLAY KORNELIOS BOTATA IKAMA FANAKA KIKADITTA HULLES KISHANA UIA IONA. TAMMAKI? AI KABARI KOSKUTANO BABARAKELA? ANDEA ADOLAY KORNELIOS ABACHACHA IDDIRA KARBIBA SULLUMOKABBU KUBE ADDIS ABEBATA? JUNUBA; JUNUBA; KUNAMA KISHE KOKOBA HAKIASI AUSUMA!!! FAIAD KANTIKA KUNAMA KABARA SISIMA; AGARA KUSUDAMA KOTIKANASSA.
AGARA JUNUBA; AGARA HAIDA, ADOLAY KORNELIOS BOTATEA OINE AMERIKA SHARA ITA KEKI FASKETUKE. AMERIKA ERKU HELLA MORKE HELLAN NINAMA NGKEDIB SALAGE HELLA ISHANO? BABARA UIA AMERIKALA HAKUMATA SHARA ITA KIKIKI KOKELAKEMA ENTI. ANDEA ADOLAY KORNELIOS ABACHACHA IDDIRA KARBIBA TABILE SEBBALA LAKASUMA TUR KUNAMA JUNUBA; KUNAMA KISHE KOKOBA HUGUGIA KITENASI AUSGOSKE! FAIAD KAKOSIMA KUNAMA KABARA SISIMA AGARA KUSUDAMA KOTIKKE; KOMALAMME
---
ADOLAY BADA KIDE FACEBOOKLA
Dabaro Buta Asala, Hawa Kabaddo, Tsadik Ibrahim, Malidia Nobeta, Shallam Katta, Femmusube Kunamame, Gilo Tuka,Marbati Barantu Mandaranga, Agita, Madodaba Solla, Dawitay Dawitom, Lujju Agaba; Atakki Shongonube, Nura Adde, Mahri Kuri, Fufakuri Dagabay, Arte Mailam, Sittal Meram, Mizan Lebamat, Erku Sola Osman, Toma Biba, Orar Falu, Dawitay Dawitom, Aluda Gadi, Marko Andagay Buta, Uruka Tagagi, Alexander Agita,
Kunama Kabara Tokome
kunama kabara tokome harmony
kunama kabara tokome sudan
kunama kabara tokome dala
kunama kabara tokome እዮም
NB:- Nna kabarenaila kilattamana Adolay ainiokanno imin koski tabarnaske. Kokelana kasana ainioka.
30 July 2015 ADOLAY SHUKA FALA BILASH !!!
Adolay: "Aba emesi tok tok naia fanaia Ethiopia Akumata ella kamininni" dabbu kudaki gummes kinake. "Adolay aba Amerikala nakos gonamenalle abata shilika kia kashodimma Kunama kulata lagam kobinia suka ionniski nnakedabbu ke unu kokanasi kasbata tabila nafos kikke." KAM= Kunama Agara Mena (July 30, 2015) Assi tukumu
---
26 July 2015 FACEBOOK SHESHETE NANGGOMMO ?
Galauende kirellokala kokolloma Adolay ollie lauetiana dora kurende elloka. Babara Shabia antata Esayas Kunamasi kittitanga aura mikamme dabbu hesuma kia hosuma kalloka tammana oinoka Adolayna auranga au kittitanga aura mikamme dabbu ke arte kiake. Talenieda galauende kirellala kokollome aia haima kosaki tur oina unu gunusuma menoab kokas gunungki abaia takken daumma ainiddab abaia ten konneki fanakia bubia bilasha shan kola gongke.
KAM = Kunama Agara Mena (July 26, 2015)
Assi tukumu
---
Adolay Kornelios,Yakob Shinggirai, Tewelde Minase, Osea Sila , Jermia Gogne
AMERIKALA AI KOFALIGOSSO? GOD BLESS AMERICADALA
Na kosibessa hengkenti nnalle ISEPA fanakala. Lattenaisi tukumu
www.oktono.com/.../lk7V8QWafMM/Eritreans-and.
(Br. General Kongkora Yakob Shinggirai) 25 JULY 2015 KONGKORA YACOB SHINGGIRAI
KONGKORA au YACOB SHINGGIRAI nna fanaka etetenaiekin sauaria Facebook gadibakin kolafaske. Kongkora taleniesi Facebookla sauariana kidia kekabbu kilattamma ide lauetingngakin angngada koda kolattamesi Facebook kodakin enola famusso ka arte nnakedabbu kokotakallaki okosalada kosake. Ide komalda unu kidia ORAR FALU dabbu askara sauarette kina kinamoa ifegedake. Tama hadirena kidia "KADEGU BELEGU" sauaria hella sauara. Kokaiasi Adolay Amerikala mabusa kuamasibbu tamma uye 47 kiddike. Ka farkelle kobinala Adolay Visa dabanabbu kollima sabbatasi Amerika fanedabbu tur uie 45 biloka kollima kulabbu sakan kouinandabbu arda koda koshike. Komamaja aura kishamoa uioua oinale shaske CHAW CHAW CHAW CIAO CIAO CIAO. Sale Felice (July 25, 2015) Assi tukumu
10 July 2015 Hi Bani Musa Ye lattesi anda nakotul gonake. Aurea agasa shimagalla urfine aura. Oinabbu ekkenabbu aftata kite. Bani Musa aftata kite haka aurokossi lakada.Sale Felice (July 10, 2015) Assi tukumu
Kunama Heroes
---

---

---
Victims of Isayas Afwerk

---

---

---

---

---
Adolay K. Osman Kunama murderer.

---

---

---

---

---

---